Favorite Stony Cottages
Gnome homes are very popular at craft fairs. Sometimes we paint them with gnomes peeking out the front door, but it's best to use your imagination.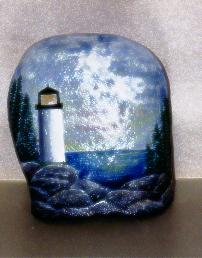 Lighthouse Rock
This one-of-a-kind creation by Dara is now owned by relatives in North Carolina. A wonderful Maine memento!
Rockin' Tiger Cats
We have painted many cats from photographs. Click here to see more
Cats by Stony Critters.
When you order your custom painted cat rock, you will have the opportunity to see photos of your cat and rock on this web site! Click here for
the order form.
Please check back often for updates. We will be adding more photos for your viewing pleasure!
[Home] [Cats by Stony Critters] [Order a Cat Rock]
Click here to send us email.

<! trailer>

Hosted by